Posted by Stephanie Junek on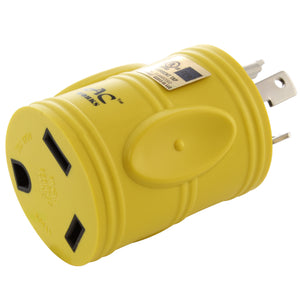 AC WORKS® brand compact power adapters are small, durable, and heavy-duty.  The durability of its material makes them built to last.  The design of these compact adapters makes them easy to hold and grip when using, carrying, or storing.  Because of their size and design, carrying them or packing them away has never been easier.  They are a bright orange color so you will not lose them on a job site or in your garage.  When designing these adapters, we kept our customer in mind.  Everything from keeping them in your pocket to being able to drop them over and...
Tags:

2019, AC Works, AC Works brand, AC WORKS brand Compact Adapters, Benefits of Compact Adapters, Choose Compact Adapters, Compact, Compact Adapter, Compact Adapter Types, Compact Marine Adapter, Compact Residential Adapter, Compact RV Adapter, Compact T-blade, Customer Service, Marine, Power, Power Solutions, RV, T-blade
Posted by Stephanie Junek on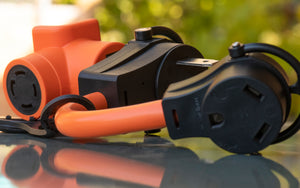 AC WORKS® brands are sold across many sales channels mostly in North America. They can be purchased worldwide as well. We compiled many of the frequently asked customer questions or concerns in one place for you to read.
Tags:

2017, 2018, 2019, AC Connectors, AC Works, AC Works brand, AC WORKS brand Compact Adapters, AC WORKS brand kits, adapters, Amazon, Amazon Prime, Circuit Breaker, Compact Adapter, Customer Service, Dryer, dryer adapter, Dryer Adapter Solutions, Dryer Adapter with Ground Wire, Dryer Grounding, Dryer Grounding Adapter, Dryer Outlet, Dryer Outlet Adapter, Durable, Duty Tax, Ebay, Electric vehicle, Emergency Power, Emergency Power Generator, Emergency Power System, EV, EV Adapter, Exchange, Extension Cord, Extension Cord Power Solutions, FAQ, FAQs, Fast Shipping, Flexible Dryer Adapter, FREE Consultations, Frequently Asked Questions, Generator, Generator Adapter, Generator Adapters, Generator Power, generator power solutions, Home Depot, Household Dryer Outlet, Household Power, Hurricane Power Outage, International Shipping, Jet, March 2018, PDU, Plug, Power, power adapter, Power Adapters, Power Connections, Power Distribution, Power Outage, Power Solutions, Prime, Products, Quality, Receptacle, Residential, Residential Power, Residential Use, Restocking Fee, Returns, RV Adapters, RV Generator, RV Generator Adapter, RV Power, Safety, Shipping, Standard Household Voltage, T-blade, Technical, Tesla Charger Plug Adapter, Tornado Power Outage, Transfer Switch, Walmart, Welder