Posted by Stephanie Junek on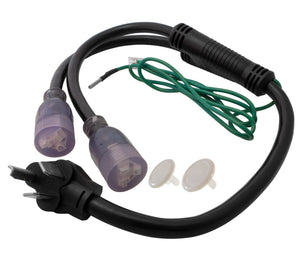 For a while now, customers have been reaching out to us trying to adapt their 3-prong dryer outlet for regular household use. Although this was a tricky solution to develop, we can now say that we have an adapter just for you: 1030Y520-036.
Posted by Stephanie Junek on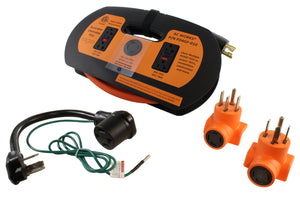 This AC WORKS® brand Flood Restoration Equipment Power Distribution (PDU) Kit [RDKIT02] includes 4 of our indoor/outdoor products allowing you to find solutions from all residential high power sources. This kit is great for flood restoration, bed bug mitigation, drying, and remodeling businesses. This kit has the length needed to get power throughout your job-site and connect all of your equipment. No need to worry about breakers tripping or running out of outlets. Included items are the S10301430-018, 3-Prong dryer wall outlet to a 4-Prong dryer outlet, AD1430L1430, 4-Prong dryer wall outlet to 4-Prong locking adapter, AD1450L1430, 4-Prong range/generator outlet...
Tags:

Basement Flood, Bed Bug Treatment, Flood, Flood Mitigation, Flood Restoration, Flood Restoration Equipment, Flood Restoration Kit, Heater, High power, High Power Heaters, high power outlets at home, New Kit, New Product, New Release, Power Distribution in home, Power Distribution Kit, Power distribution panel, RD Kit, RD KIT Two, RDKIT02, RDKIT02 Release
Posted by Stephanie Junek on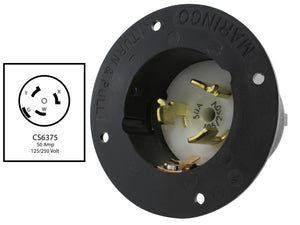 This AC WORKS® brand inlet wiring device [CS6375] is a heavy-duty power input connection device. It is used for an industrial and commercial grade flange inlet. This inlet works with 6 AWG (American Wire Gauge) copper wire and is commonly used for residential, transfer switches, and cabins. Included in your purchase is a 1-year limited warranty. Note: 10 Gauge is for 30 Amp, 8 Gauge is for 40 Amp, and 6 Gauge is for 50 Amp. - Residential, Transfer Switch, and Cabin Power Inlet - 50 Amp, 125/250 Volt Inlet - CS6375/ SS2-50P Locking Power Inlet - UL & cUL...