Posted by Christopher Hahn on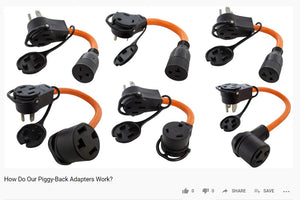 Recently, we brought in a new line of innovative adapters: piggy-back adapters. These new adapters offer multiple power solutions for your 1450 outlet and even travel trailer outlets. Let's start with our 1450 class of piggy-back adapters. The male plug end is a NEMA 14-50, most often used with RV campgrounds, high-powered generators, and electric cooking ranges. On the backside of the plug, is a 14-50 outlet with a cover. We offer a variety of connections for the female connector end of these flexible adapters. Be on the lookout for more innovative AC WORKS adapters such as these in the...
Tags:

14-50, 2020, 30 Amp, 30 Amp RV, 50 Amp, AC Works, AC Works brand, AC WORKS video, AC WORKS Wisdom, AC WORKS Wisdom Series, Customer Service, Emergency Power Generator, Generator, Generator Power, generator power solutions, Household Power, instructional video, Power, Power Solutions, Range Outlet, Receptacle, Residential, Residential Power, Residential Use, RV, Subscribe to YouTube, Technical, TT-30, Video, Video Series, YouTube, YouTube Channel, YouTube Video, YouTube Videos
Posted by Christopher Hahn on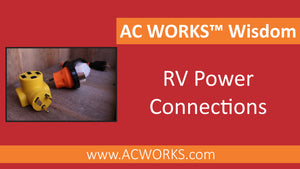 Keeping your RV or camper powered during a trip is very important. There are typically two types of RVs: a 30 amp RV and a 50 Amp RV. It's always hard to tell what kind of power supply will be provided at your campsite and if your RV will be able to plug-in there.
Tags:

14-50, 14-50P, 1450, 2018, 30 Amp, 30 amp 125 volt, 30 Amp RV, 50 Amp, 50 amp 125/250 volt, 50 Amp Power, 50 amp rv, 50 Amps electricity, AC Works, AC Works brand, AC WORKS video, AC WORKS Wisdom, AC WORKS Wisdom Series, Campground Power, Convert 30 amp to 50 amp, Convert 30A to 50A, Different RV Connections, Generator Power, instructional video, Locking Adapter, NEMA 14-50P, NEMA TT-30P, power pedastal, Power Solutions, RV, RV Adapter, RV Electricity, RV Generator, RV Generator Adapter, RV Generator Power, RV Generator Safety, RV Locking Adapter, RV Park, RV Power, RV Power Adapter, RV Power Connections, Subscribe to YouTube, Technical, TT, TT-30P, TT30, Video, Video Series, What RV Connection Do I Have, What RV Connection do I Need, YouTube, YouTube Channel, YouTube Video, YouTube Videos