Posted by Christopher Hahn on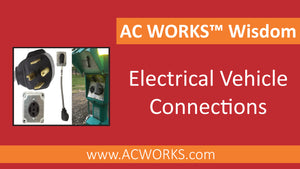 Electrical vehicles, such as Tesla, are becoming more and more popular. With more consumers going "green," more car manufacturers are developing electric vehicles. With electrical vehicles, there will always be a need to re-charge them. There are many AC WORKS® brand EV charging adapters for any situation you end up in. We have flexible adapters, compact adapters, and even extension cords for your Tesla charger.
Tags:

2018, 30 Amp Charging, 50 Amp Charging, 50 Amps electricity, AC Works, AC Works brand, AC WORKS video, AC WORKS Wisdom, AC WORKS Wisdom Series, Charge Tesla Anywhere, Charge Tesla at Home, Drive Electric, electric cars, Electric vehicle, Electric Vehicle Adapter, Electric Vehicle Adapters, Electric Vehicle Charging, EV Charging, EV Charging Adapter, EV charging solutions, EV Connection, EV Connections, EV650MS, Fast EV Charge, Household Electricity, Household Power, instructional video, NEMA 14-50P, NEMA 5-15R, NEMA 6-50R, Power, Power Solutions, Slow EV Charge, Subscribe to YouTube, Technical, Tesla, Tesla Charger Plug Adapter, Trickle Charge Tesla, Video, Video Series, Where to Charge Tesla, YouTube, YouTube Channel, YouTube Video, YouTube Videos
Posted by Christopher Hahn on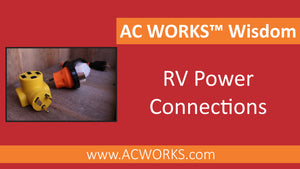 Keeping your RV or camper powered during a trip is very important. There are typically two types of RVs: a 30 amp RV and a 50 Amp RV. It's always hard to tell what kind of power supply will be provided at your campsite and if your RV will be able to plug-in there.
Tags:

14-50, 14-50P, 1450, 2018, 30 Amp, 30 amp 125 volt, 30 Amp RV, 50 Amp, 50 amp 125/250 volt, 50 Amp Power, 50 amp rv, 50 Amps electricity, AC Works, AC Works brand, AC WORKS video, AC WORKS Wisdom, AC WORKS Wisdom Series, Campground Power, Convert 30 amp to 50 amp, Convert 30A to 50A, Different RV Connections, Generator Power, instructional video, Locking Adapter, NEMA 14-50P, NEMA TT-30P, power pedastal, Power Solutions, RV, RV Adapter, RV Electricity, RV Generator, RV Generator Adapter, RV Generator Power, RV Generator Safety, RV Locking Adapter, RV Park, RV Power, RV Power Adapter, RV Power Connections, Subscribe to YouTube, Technical, TT, TT-30P, TT30, Video, Video Series, What RV Connection Do I Have, What RV Connection do I Need, YouTube, YouTube Channel, YouTube Video, YouTube Videos