Posted by Christopher Hahn on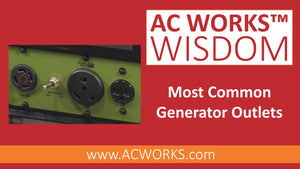 There are many different types of generators for many different purposes. The most common generator being used by our customers is a portable generator. Our customers use this type of generator for food trucks, RVs, and emergency power. After going out to local stores to see what is on the market, we discovered there are 4 most common outlets: A NEMA 5-15 or NEMA 5-20 for household plugs, a NEMA L5-30 for 30 Amp service at 120 Volts, and a NEMA L14-30 for 30 amp service at 120/240 Volts. Another outlet gaining popularity for campers is the NEMA TT-30. Watch...
Tags:

2018, 4 Common Outlets, 5-15, 5-15R, 5-20, 5-20R, 515, 520, AC Works, AC Works brand, AC WORKS video, AC WORKS Wisdom, AC WORKS Wisdom S, AC WORKS Wisdom Series, Emergency Power, Emergency Power Generator, Emergency Power System, Food Truck Generator, Generate Power, Generator, Generator Connections, Generator Connector, Generator Outlet Power, Generator Outlets, L14-30, L14-30R, L1430, L5-30, L5-30R, L530, Most Common Generator Outlets, NEMA 5-15, NEMA 5-20, NEMA L14-30, NEMA L5-30, NEMA TT-30, outlets, Portable Generator, RV Generator, Subscribe to YouTube, TT-30, TT-30R, TT30, Video, Video Series, YouTube, YouTube Channel, YouTube Video, YouTube Videos
Posted by Christopher Hahn on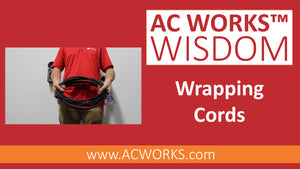 We're sure that your home or workplace has dozens, if not hundreds of electrical or data cables. Keeping them coiled up and organized not only looks nice, but it helps the overall longevity of the cable.
Tags:

2018, ac works brand, AC WORKS video, AC WORKS Wisdom, AC WORKS Wisdom S, AC WORKS Wisdom Series, cable safety, cables, coiled cord, cold weather extension cord, cord safety, electrical cable, electrical cord, Electrical Extension Cords, Extension Cord, Extension Cord Power Solutions, How To Video, indoor/outdoor cable, instructional video, organizing cords, power cable, power cord, Safety, Subscribe to YouTube, Video, Video Series, winter extension cord, wrapping cords, wrapping your power cord, YouTube, YouTube Channel, YouTube Video, YouTube Videos