Posted by Christopher Hahn on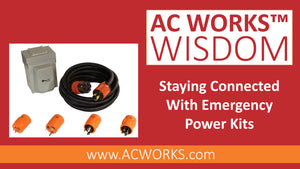 Having an emergency power system can be crucial to your home depending on where you live. After doing some research, you may find it hard to get all the necessary equipment you need in one place. Wouldn't it be helpful if there were a kit dedicated to emergency power systems?
Tags:

20 amp inlet box, 2019, 30 amp inlet box, AC Works brand, ac works brand kits, AC WORKS Brand Press Release, AC WORKS Kits, AC WORKS video, AC WORKS Wisdom, AC WORKS Wisdom Series, Backup Plan, Backup Power, Circuit Breaker, Customer Service, Emergency Backup Plan, Emergency Power, Emergency Power Generator, Emergency Power Inlet, Emergency Power Kit, Emergency Power Kits, Emergency Power Locking Kits, Emergency Power System, EPL, EPL Kits, EPL1420, EPL1430, Extension Cord, Extension Cord Power Solutions, Flood Outage, Generator, Generator Power, generator power solutions, Household Power, Hurricane Power Outage, Inlet, Inlet Box, instructional video, Locking Adapters, new products, Power, Power Inlets, Power Kits, Power Outage, Power Outages, Power Solutions, Product Release, Products, Residential, Residential Power, Residential Use, snow emergency, snow outage, stay connected with power kits, Subscribe to YouTube, Technical, tornado outage, Tornado Power Outage, Transfer Switch, Video, Video Series, Weather Outages, YouTube, YouTube Channel, YouTube Video, YouTube Videos
Posted by Christopher Hahn on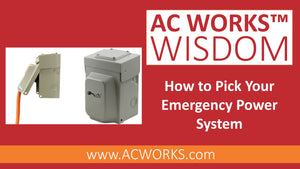 In this video, we will answer all of these questions. We help you decide which generator connections and inlet connections you need, as well as some adapters you may need. An emergency power system should not be rushed and thrown together. If you have any questions about what you may need for yours, please contact us! We have all of your power solution needs.
Tags:

2019, AC Works, AC Works brand, AC WORKS video, AC WORKS Wisdom, AC WORKS Wisdom Series, Backup Plan, Backup Power, Circuit Breaker, Customer Service, Disaster Relief, Electrical Safety, Emergency Backup Plan, Emergency Power, Emergency Power Generator, Emergency Power Inlet, Emergency Power System, Extension Cord, Extension Cord Power Solutions, Flood Outage, Generator, Generator Adapter, Generator Adapters, Generator Adpater, generator capacity, Generator Connector, Generator converting to, Generator Power, generator power solutions, Household Power, Hurricane Power Outage, Hurricane Season, instructional video, Natural Disaster, Natural Disaster Relief, Plug, Power, Power Outage, Power Outages, Power Solutions, Residential, Residential Power, Residential Use, snow emergency, snow outage, Standard Household Voltage, Subscribe to YouTube, Technical, tornado outage, Tornado Power Outage, Tornado Warning, Transfer Switch, Transfer Switch Inlet, Transfer Switch System, Video, Video Series, Weather Outages, YouTube, YouTube Channel, YouTube Video, YouTube Videos