Posted by Christopher Hahn on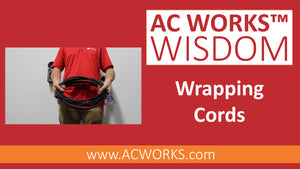 We're sure that your home or workplace has dozens, if not hundreds of electrical or data cables. Keeping them coiled up and organized not only looks nice, but it helps the overall longevity of the cable.
Tags:

2018, ac works brand, AC WORKS video, AC WORKS Wisdom, AC WORKS Wisdom S, AC WORKS Wisdom Series, cable safety, cables, coiled cord, cold weather extension cord, cord safety, electrical cable, electrical cord, Electrical Extension Cords, Extension Cord, Extension Cord Power Solutions, How To Video, indoor/outdoor cable, instructional video, organizing cords, power cable, power cord, Safety, Subscribe to YouTube, Video, Video Series, winter extension cord, wrapping cords, wrapping your power cord, YouTube, YouTube Channel, YouTube Video, YouTube Videos
Posted by Christopher Hahn on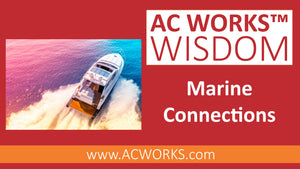 Shore power provides power to your vessel without the use of your engine. You can run essential vessel functions without using fuel. Many of the AC WORKS® RV adapters and power cords can be used for shore power as well. There are just a few things to keep in mind when selecting them. 
Tags:

10 gauge wire, 2018, AC Works, AC Works brand, AC WORKS video, AC WORKS Wisdom, AC WORKS Wisdom Series, Boat, Boat Dock Safety, Boat Power, Boat Power Solutions, cable safety, corrosion, Customer Service, instructional video, Locking Ring, Locking Ring Products, Marina, marina power, Marine Power, Marine RV Food Truck, Marine Shore, Marine Shore Power, Marine Shore Power Solutions, Nickel, nickel plated, nickel plating, nickel prongs, nickel-plated connector, nickel-plated pins, nickel-plated pins and terminals, nickel-plated plug, Oil Resistence, oxidization, Power, Power Pedastal, Power Solutions, prevent corrosion, Products, Safety, Shore Power Connections, Shore Power Outlets, SOOW, SOW, STOOW, STOW, Subscribe to YouTube, Technical, Vessel, Video, Video Series, weather resistant, Weather Resistence, Weather Tight, Weather Tight Shore Power, YouTube, YouTube Channel, YouTube Video, YouTube Videos