Posted by Stephanie Junek on
Tags:

#askacworks, 20 AMP, 20 Amp Circuit Breaker, 20 Amp Circuit Breakers, AC WORKS News, AC WORKS Newsletter, AC WORKS the WRAP UP, Avoid Electrical Fires, BIG NEWS, Big News the WRAP UP, Circuit Breaker, Circuit Breaker Power Adapters, Circuit Breaker Tripping, Differences between Surge Protectors and Circuit Breakers, Download Newsletter, Electrical Fires, Fire Code, Fire Hazard, fire prevention, Fire Safety, surge protectors
Posted by Christopher Hahn on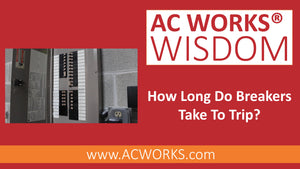 In this video, we will take a look at a chart that breaks down the time and current needed to trip a breaker. With this information, you will be able to determine if your workload will trip a breaker and how quickly it will be tripped.
Tags:

2019, AC Works, AC Works brand, AC WORKS video, AC WORKS Wisdom, AC WORKS Wisdom Series, Breaker, breaker trip, breaker tripping, breaker trips when I charge Tesla, Circuit Breaker, circuit breaker tripping, current, Electrical Safety, EV trips breaker, Household Power, instructional video, Power, Residential, Residential Power, Residential Use, Safety, Subscribe to YouTube, Technical, Tesla trips breaker, time, Trip Breaker, Tripping Breaker, tripping your breaker, Video, Video Series, why a breaker trips when charging Tesla, YouTube, YouTube Channel, YouTube Video, YouTube Videos
Posted by Christopher Hahn on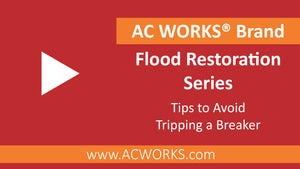 Getting the right amount of power to your high power fans and heaters can be a tricky process. So here are some helpful tips to follow to make your project run more efficiently.
Tags:

2019, AC Works, AC Works brand, AC WORKS video, AC WORKS Wisdom, AC WORKS Wisdom Series, Air Mover, Air Movers, Avoid Breaker Tripping, Avoid Tripping Breaker, Bed Bug Treatment, Bed Bugs, Blue Heater, Circuit Breaker, Circuit Breaker Tripping, Daisy Chain, Dehumidifier, Dryer, Drying, Emergency Flood, EnergeDry, Energy Dry, fans, Flood Mitigation, Flood Restoration, Flood Restoration Equipment, Flood Restoration Power, Flooded Carpets, Heat, Heater, Heaters, High Power Heaters, Inlet, instructional video, Mitigation, Mold Remediation, Phoenix Firebird, Power, Power Solutions, Radial Eliminator, Radial Heater, Red Fan, Red Fans, Restoration, Subscribe to YouTube, Technical, Video, Video Series, YouTube, YouTube Channel, YouTube Video, YouTube Videos