Posted by Christopher Hahn on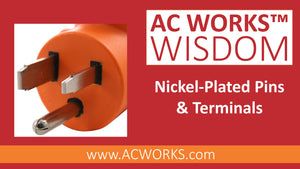 When reading our product descriptions, you may notice a feature called "nickel-plated pins and terminals." You may be asking yourself, what does this mean? Or how does this affect the performance and quality of the adapter I am going to purchase?Plating the pins and terminals with nickel is just another way we make our products heavy-duty. The nickel helps prevent corrosion, whereas copper, which is the standard in plugs and wires, corrodes a little more quickly.Nickel is tougher when it comes to withstanding the elements. It's doesn't get scratched as easily and takes longer to corrode. Therefore we nickel plate...
Tags:

AC WORKS, anti-rusting adapters, anti-rusting cords, anti-rusting plugs, avoid electrical pins rusting, avoid metal rusting, avoid rusting, benefits of nickel, benefits of nickel-plated pins, conductivity of copper, conductivity of nickel, cons of copper, Copper, copper prongs, copper vs nickel prongs, corrosion, heavy-duty adapters, heavy-duty connectors, heavy-duty plugs, metal hardness, metal prongs, nickel plated, nickel plating, nickel prongs, nickel vs copper, nickel vs copper prongs, nickel-plated adapter, nickel-plated connector, nickel-plated pins, nickel-plated pins and terminals, nickel-plated plug, nickel-plated terminals, passive metals, pins and terminals, postpone prongs rusting, postpone rusting, prevent corrosion, prongs, pros of nickel, what are nickel-plated plugs, what does this mean, why copper prongs, why nickel pins and terminals, why nickel plating, why nickel prongs, why use nickel-plated plugs
Posted by Christopher Hahn on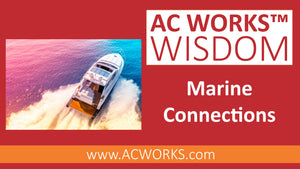 Shore power provides power to your vessel without the use of your engine. You can run essential vessel functions without using fuel. Many of the AC WORKS® RV adapters and power cords can be used for shore power as well. There are just a few things to keep in mind when selecting them. 
Tags:

10 gauge wire, 2018, AC Works, AC Works brand, AC WORKS video, AC WORKS Wisdom, AC WORKS Wisdom Series, Boat, Boat Dock Safety, Boat Power, Boat Power Solutions, cable safety, corrosion, Customer Service, instructional video, Locking Ring, Locking Ring Products, Marina, marina power, Marine Power, Marine RV Food Truck, Marine Shore, Marine Shore Power, Marine Shore Power Solutions, Nickel, nickel plated, nickel plating, nickel prongs, nickel-plated connector, nickel-plated pins, nickel-plated pins and terminals, nickel-plated plug, Oil Resistence, oxidization, Power, Power Pedastal, Power Solutions, prevent corrosion, Products, Safety, Shore Power Connections, Shore Power Outlets, SOOW, SOW, STOOW, STOW, Subscribe to YouTube, Technical, Vessel, Video, Video Series, weather resistant, Weather Resistence, Weather Tight, Weather Tight Shore Power, YouTube, YouTube Channel, YouTube Video, YouTube Videos