Posted by Christopher Hahn on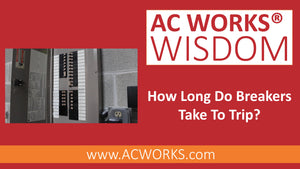 In this video, we will take a look at a chart that breaks down the time and current needed to trip a breaker. With this information, you will be able to determine if your workload will trip a breaker and how quickly it will be tripped.
Tags:

2019, AC Works, AC Works brand, AC WORKS video, AC WORKS Wisdom, AC WORKS Wisdom Series, Breaker, breaker trip, breaker tripping, breaker trips when I charge Tesla, Circuit Breaker, circuit breaker tripping, current, Electrical Safety, EV trips breaker, Household Power, instructional video, Power, Residential, Residential Power, Residential Use, Safety, Subscribe to YouTube, Technical, Tesla trips breaker, time, Trip Breaker, Tripping Breaker, tripping your breaker, Video, Video Series, why a breaker trips when charging Tesla, YouTube, YouTube Channel, YouTube Video, YouTube Videos
Posted by Christopher Hahn on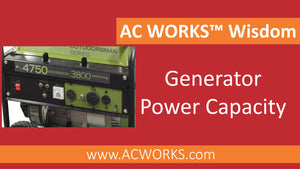 There are many different generators for many different purposes. Whatever the purpose may be, there is always a maximum capacity. Usually, this is printed on the outside of the generator. What is the capacity? The capacity is the highest amount of power that can be used at one time. The capacity is very rarely reached all the time. Please check out our website to read informative blogs about similar topics, and to see our various adapters and cords for your power solution needs. Check us out on Facebook, Pinterest, and Instagram. Give us a like and subscribe to our youtube...
Tags:

2018, 7500 Watts, AC Works, AC Works brand, AC WORKS video, AC WORKS Wisdom, AC WORKS Wisdom Series, amps, calculate power, calculate watts, current, Customer Service, Generator, generator capacity, Generator Power, Generator Power Capacity, generator power solutions, generator watts, highest generator power, instructional video, L14-30R, maximum capacity, peak generator power, Peak Power, peak watts, Portable Generator, Power, Power equals votage times current, Subscribe to YouTube, Video, Voltage, watts, watts equals voltage times amps, YouTube, YouTube Channel, YouTube Video, YouTube Videos