Posted by Stephanie Junek on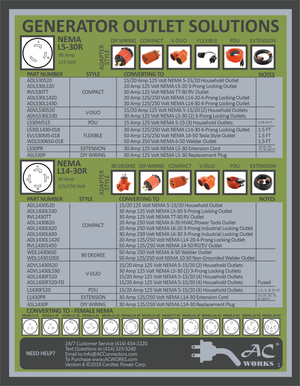 AC WORKS® Generator Product Sell Sheet contains compact adapters of all types, flexible adapters, and extension cords to get power to and from just about any combination of items.  You can power many different things including your RV, Food Truck, EV, Power Tools, HVAC, Welder, many household items and more. 
Tags:

15/20 amp household outlet, 2017, 2018, 2019, 3-prong locking outlet, 30 Amp RV, 30 amp RV outlet, 4-prong locking outlet, 90 Degree Angled Adapter, AC Works, AC Works brand, Angled Adapter, Compact adapter, Customer Service, DIY Wiring Device, DIY Wiring Generator Replacement Plug, Emergency Power, Emergency Power Generator, Emergency Power System, Extension Cord, flexible adapter, Flexible Generator Adapter, Food Truck Generator, Food Truck Generator Connections, Generator, Generator Adapter, Generator Adapters, Generator Adpater, Generator Connector, Generator converting to, Generator Extension, Generator Extension Cord with Multiple Outlets, Generator Extension Cord with PDU, Generator Extension Cords, Generator Outlet Power, Generator Outlets, Generator Power, generator power solutions, Generator RV, generator to 3-prong locking outlet, Generator to 30 Amp RV, Generator to 4-prong locking outlet, Generator to 50 Amp Outlet, Generator to EV Outlet, generator to household outlet, Generator to Household Outlets, Generator to Household Power Cord with PDU, Generator to HVAC outlet, generator to locking outlet, Generator to PDU, generator to RV outlet, Generator to Tesla Style Outlet, Generator to Welder Outlet, highest generator power, Household Power, HVAC Outlet, locking generator outlet, Most Common Generator Outlets, NEMA L14-20, NEMA L14-20R, NEMA L14-30, NEMA L14-30R, NEMA L5-30, NEMA L5-30R, NEMA TT-30, NEMA TT-30R, PDU Adapter, Plug, Portable Generator, Power, power cord, Power Solutions, Powering Food Truck With Generator, Products, Range to Generator Adapter, Receptacle, Residential, Residential Power, Residential Use, RV, RV Generator, RV Generator Adapter, RV Generator Power, RV/EV Outlet, Standard Household Voltage, Technical, Transfer Switch, v adapter, V-DUO Adapter, V-duo adapters, VDUO, vduo adapter, Welder Outlet
Posted by Christopher Hahn on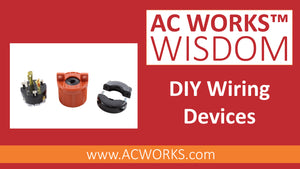 Finding and using DIY products can sometimes be more cost effective than buying pre-made products from a store. It can also be more fulfilling knowing you have constructed something with your own two hands. There can be a lot of different DIY products out there, so we are going to help narrow things down. 
Tags:

2018, AC Works, AC Works brand, ac works library, AC WORKS video, AC WORKS Wisdom, Assembly, C UL, Chemical Resistant, copper wire, Customer Service, DIY, DIY products, DIY Safety, DIY Wiring, DIY Wiring Device, Easy Assembly, Electrical Wiring, Electrical Wiring Safety, Electronics, Impact Resistant, Inlet, instructional video, outlet, outlets, Replacement Plugs, Safety, strain relief, Subscribe to YouTube, UL Certifiications, Video, Video Series, weather resistant, weather tight seal, Wiring, Wiring Device, Wiring Projects, Wiring Safety, Wiring Safety Tips, YouTube, YouTube Channel, YouTube Video, YouTube Videos
Posted by Stephanie Junek on
Tags:

2018, AC Wiring, AC Works, AC Works brand, AC WORKS Wiring, American Wire Gauge, American Wire Gauge AWG, American Wire Gauge Chart, AWG, AWG C, Customer Service, DIY, DIY Wiring, DIY Wiring Device, Electrical, Electrical Wiring, Electrical Wiring Safety, Electrical Wiring Tips, Technical, Wire Gauge Chart, Wiring, Wiring Device, Wiring Guide, Wiring Projects, Wiring Safety, Wiring Safety Guide, Wiring Safety Tips, Wiring Tips, Wiring Tricks