Posted by Stephanie Junek on
Tags:

2018, 2019, AC Works, AC Works brand, AC WORKS brand kits, AC WORKS Kits, Customer Service, Dryer Outlet, Electric Vehicle Kits, Emergency Backup Plan, Emergency Kits, Emergency Power, Emergency Power Generator, Emergency Power Inlet, Emergency Power Kit, Emergency Power Kits, Emergency Power System, EPL 1420 Kit, EPL 1430 Kit, EPL Kit, EV Charging Kits, EV Kit, EV kits, Generator, Generator Power, HG Kit, HGKIT, Home and Garden Kit, Home Garden Kit, Power, Power Kits, Power Solutions, Products, Residential Power, Residential Use, RV 30 Amp Kit, RV 50 Amp Kit, RV Detachable Cord, RV detachable power supply cord, RV Kit, RV30AKIT, RV50AKIT, stay connected with power kits, WD kit, welder kit, welder kit 2, welder kit 3, welder kit three, Welder Kits
Posted by Stephanie Junek on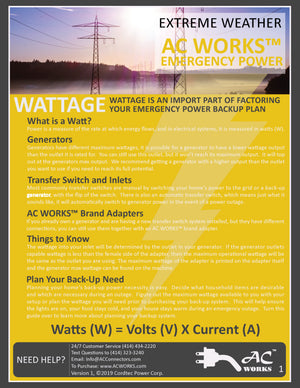 Power is a measure of the rate at which energy flows, in electrical systems, it is measured in Watts (W).  Generators have different maximum wattages.  Transfer Switches and Inlet systems allow you to provide power to your home during an outage with the flip of a switch, turning your power from the grid to your backup system.
Tags:

2019, AC Works, AC Works brand, Customer Service, Emergency Backup Plan, Emergency Power, Emergency Power Generator, Emergency Power Inlet, Emergency Power Kit, Emergency Power System, Extension Cord, Flood Outage, Generator, Generator Outlet Power, Generator Outlets, Generator Power, generator power solutions, Household Power, How to find wattage, Hurricane Power Outage, locking generator outlet, Most Common Generator Outlets, Natural Disaster, Natural Disaster Relief, Power, Power Outage, Power Outages, Power Solutions, Residential, Residential Power, Residential Use, Safety, snow outage, Technical, tornado outage, Tornado Power Outage, Transfer Switch, Wattage, Wattage Capacity, Weather Outages
Posted by Christopher Hahn on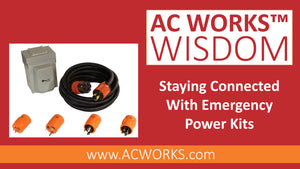 Having an emergency power system can be crucial to your home depending on where you live. After doing some research, you may find it hard to get all the necessary equipment you need in one place. Wouldn't it be helpful if there were a kit dedicated to emergency power systems?
Tags:

20 amp inlet box, 2019, 30 amp inlet box, AC Works brand, ac works brand kits, AC WORKS Brand Press Release, AC WORKS Kits, AC WORKS video, AC WORKS Wisdom, AC WORKS Wisdom Series, Backup Plan, Backup Power, Circuit Breaker, Customer Service, Emergency Backup Plan, Emergency Power, Emergency Power Generator, Emergency Power Inlet, Emergency Power Kit, Emergency Power Kits, Emergency Power Locking Kits, Emergency Power System, EPL, EPL Kits, EPL1420, EPL1430, Extension Cord, Extension Cord Power Solutions, Flood Outage, Generator, Generator Power, generator power solutions, Household Power, Hurricane Power Outage, Inlet, Inlet Box, instructional video, Locking Adapters, new products, Power, Power Inlets, Power Kits, Power Outage, Power Outages, Power Solutions, Product Release, Products, Residential, Residential Power, Residential Use, snow emergency, snow outage, stay connected with power kits, Subscribe to YouTube, Technical, tornado outage, Tornado Power Outage, Transfer Switch, Video, Video Series, Weather Outages, YouTube, YouTube Channel, YouTube Video, YouTube Videos