Posted by Christopher Hahn on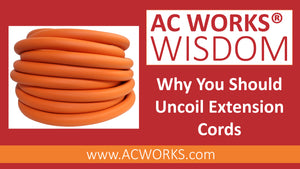 There is one tip on your warning tags about unraveling cords while in use to prevent them from over-heating. 
While this tip may get overlooked, it is necessary to always follow it. From simple household extension cords to heavy-duty industrial cords, piled up cords can be dangerous!
Tags:

2019, AC Works, AC Works brand, AC WORKS video, AC WORKS Wisdom, AC WORKS Wisdom Series, Customer Service, Electrical Safety, Extension Cord, Extension Cord Power, Extension Cord Power Safety, Extension Cord Power Solutions, Extension Cord Safety, instructional video, Safety, Safety Tips, Subscribe to YouTube, Technical, Video Series, YouTube, YouTube Channel, YouTube Video, YouTube Videos