Posted by Stephanie Junek on
Posted by Christopher Hahn on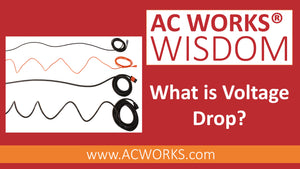 When shopping for AC WORKS® brand extension cords, you may notice the majority of them stay within a 50ft or less range. This is to avoid something that all power cords experience, called "voltage drop." What is voltage drop?
Tags:

2019, AC Works, AC WORKS brand, AC Works Connector, AC WORKS Extension Cords, AC WORKS video, AC WORKS Wisdom, AC WORKS Wisdom Series, Amps, Customer Service, Electric, Electrical Safety, Electricity, Emergency Power System, Extension Cord, Extension Cord Power Solutions, Extension Cords, Generator, Generator Power, Household Power, instructional video, Length, Power, Power Solutions, Products, Ratings Drop, Reduced Voltage, Residential, Residential Power, Residential Use, RV, Safety, Safety Tips, Standard Household Voltage, Subscribe to YouTube, Technical, Transfer Switch, Video, Video Series, Voltage, Voltage Drop, Voltage Ratings, Voltage Ratings Drop, YouTube, YouTube Channel, YouTube Video, YouTube Videos
Posted by Stephanie Junek on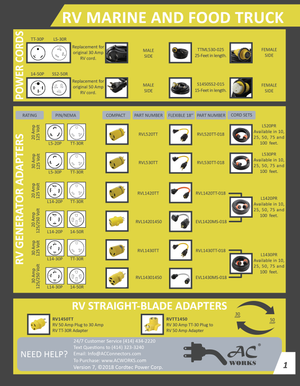 AC WORKS® RV, Marine Shore, and Food Truck Product Sell Sheet contain compact adapters, flexible adapters, and cord sets to get you power.  You can get power by using many different outlets including regular household outlets, Generator, RV Power, Dock Power and more.
Tags:

2017, 2018, 2019, 30 Amp, 30 amp plug to 50 amp RV, 30 Amp RV, 30 Amp RV Cord, 30 amp rv cord replacement, 50 am rv cord replacement, 50 Amp, 50 amp plug to 30 amp RV, 50 Amp RV, 50 Amp RV Cord, AC Works, AC Works brand, Boat Dock Safety, Camper, Camper Adapter, Camper Power, Common Shore Dock Power, Compact Adapter, Cord Sets, Customer Service, Extension Cord Power Solutions, Extension Cords, Fall RV Destinations, Fifth Wheel, Flexible Adapter, Food Truck, Food Truck Adapter, Food Truck Generator, Food Truck Generator Connections, Food truck power, Food Truck Power Solutions, food truck power supply, Food Truck Product Sheet, Generator, Generator Power, Generator RV, Go RVing, How to Power Food Truck, Marina, marina power, Marine, Marine RV Food Truck, Marine Shore, Marine Shore Power, Marine Shore Power Solutions, Marine Shore Product Sheet, Plug, Power, Power Solutions, Powering Food Truck With Generator, product sell sheet, Product Sheet, Product Sheet Download, Products, Prosser RV, Prossers RV, Receptacle, RV, RV 50 Amp plug to RV 30 Amp plug, RV Adapter, RV Adapters, RV Cord Replacement, RV Detachable Cord, RV detachable power supply cord, RV Electricity, RV Extenstion Cord, RV Generator, RV Generator Adapter, RV Generator Power, RV Generator Products, RV Park, RV Park Power Source, RV Power, RV Power Adapter, RV Power Connections, RV Power Cord, RV product Sheet, Technical, Trailer Adapter, Trailer Power