Posted by Christopher Hahn on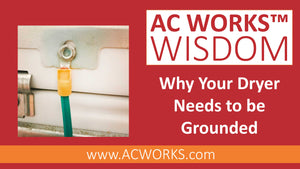 Grounding is the common point of return for an electrical current. It is in place as a safety measure to prevent harm to the user if there happens to be a fault. It can most easily be identified as the round shaped or U-shaped pin on plugs and outlets.
Tags:

1030 Dryer Adapter, 2019, 3 to 4 prong dryer adapter, 30 Amp Dryer Outlet, 4 to 3 prong dryer outlet, 4-prong dryer outlet, AC Works, AC Works brand, AC WORKS video, AC WORKS Wisdom, AC WORKS Wisdom Series, AC WORKS™ Ground Wire, Clothes Dryer Outlet, Customer Service, Dryer, Dryer Aapters, dryer adapter, Dryer Adapter Solutions, Dryer Adapter with Ground Pin, Dryer Adapter with Ground Wire, Dryer Adapters, Dryer Grounding, Dryer Grounding Adapter, Dryer Outlet, Dryer Outlet Adapter, Dryer Outlets, Dryer Relocation, Dryer Solutions, electric dryer, Electrical Safety, Flexible Dryer Adapter, gas dryer, Green Ground Wire, Ground, Ground Dryer, Grounding, Grounding Adapter, Grounding Pin, Grounding Pin Adapter, Grounding Safety, Grounding Wire, Grounding Your Dryer, Household Dryer, Household Dryer Outlet, Household Power, How to Ground Your Dryer, instructional video, NEMA 10-30R Dryer Adapter, NEMA 1030 Dryer Relocation, new dryer, New House Old Dryer, New to Old Dryer Outlet, old dryer, Old House New Dryer, Power Solutions, Receptacle, Residential, Residential Power, Residential Use, Safety, Safety Tips, Subscribe to YouTube, Technical, Video, Video Series, YouTube, YouTube Channel, YouTube Video, YouTube Videos
Posted by Christopher Hahn on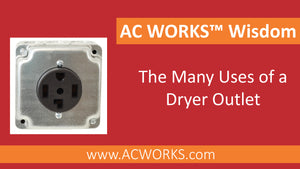 We have discussed dryer outlets and adapters briefly in a previous edition of AC WORKS® Wisdom, but we are going to dive deeper into just how useful a dryer outlet can be with the use of our adapters. Please check out our website to read informative blogs about similar topics, and to see our various adapters and cords for your power solution needs. Check us out on Facebook, Pinterest, and Instagram. Give us a like and subscribe to our youtube channel to see more videos just like this one. Shoot us an email if there is a topic you would...
Tags:

10-30, 10-30R, 1030, 1030 Dryer Adapter, 14-30, 14-30R, 1430, 2018, 3 prong, 4 prong, 4-prong dryer outlet, 6-50P, 650, 650P, AC Works, AC Works brand, AC WORKS brand kits, AC WORKS video, AC WORKS Wisdom, AC WORKS Wisdom Series, Charge EV with Dryer Outlet, Charge Welder with Dryer Outlet, Customer Service, Dryer, dryer adapter, Dryer Adapter Solutions, dryer outlet, Dryer Outlet Adapter, dryer outlet solutions, Dryer Outlet Uses, electric dryer, Electrical Safety, EV charging, EV charging solutions, EV1030ms, EV1430MS, Fire Safety, gas dryer, Household Dryer Outlet, Household Power, instructional video, NEMA 10-30, NEMA 10-30R Dryer Adapter, NEMA 10-30R Receptacle, NEMA 1030R, NEMA 14-30, NEMA 14-30 Outlet, NEMA 14-30R receptacle, NEMA 1430, NEMA 6-50P, Plug, Power, Power Solutions, Products, Residential Power, Residential Use, Safety Tips, Subscribe to YouTube, Technical, The Many Uses of A Dryer Outlet, Video, Video Series, wd1030650, wd14301050, wd1430650, weld, Welder, Welder Plug, YouTube, YouTube Channel, YouTube Video, YouTube Videos