Posted by Stephanie Junek on
Tags:

#askacworks, 30 amp rv kit, 50 Amp RV, 50 amp rv kit, 50 Amp RV Power Kit, AC Works brand, AC WORKS brand kits, AC WORKS Brand Product Safety, ac works brand products, AC WORKS Extension Cords, ac works flexible adapter, AC WORKS in the future, AC WORKS Kits, AC WORKS Newsletter, AC WORKS the WRAP UP, AC WORKS™, AC WORKS™ Adapters, AC WORKS™ products, acworks, Burlington RV Superstore, By AC WORKS, Compact RV Adapter, Customer Service, DeHaan RV Center, Different RV Connections, Download Issue Nineteen, Download Newsletter, Fall RV Destinations, Food truck power, Food Truck Power Solutions, food truck power supply, Generator, Generator RV, Generator to 30 Amp RV, Generator to RV, generator to RV outlet, Generator to RV power, Generator to RV/Marine, Go RVing, July 2021, July 2021 Newsletter, Marine Power, Newsletter, RV, RV Power, RV/Generator, the wrap up
Posted by Stephanie Junek on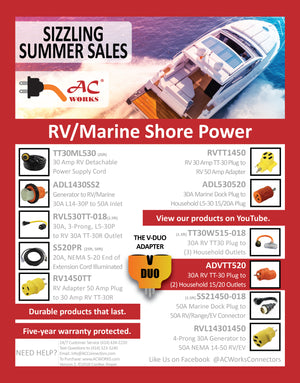 AC WORKS® brand products for the summer months.  These products will include things like Dryer Outlet adapters, Household Power Adapters, Emergency Power Extension Cords, RV power, Marine and Marine Dock Power, along with Home and Garden Extension Cords and Power Strips.  
Tags:

1030 Dryer Adapter, 15 to 20 amp, 15 to 20 amp adapter, 20 AMP, 20 Amp Extension Cord, 2018, 3 prong adapter to 4 prong, 3 prong to 4 prong, 3 to 4 prong, 3 to 4 prong dryer adapter, 3-4 prong, 3-prong, 30 Amp, 30 Amp Marine Dock Plug, 30 Amp RV, 50 amp, 50 Amp Marine Dock Plug, 50 Amp RV, 6 foot rotating power strip, AC Works, AC Works brand, AEX, Customer Service, Detachable, Detachable Style Power System, Dryer plug to household outlet, dryer plug to HVAC outlet, Dyer Relocation, Generator plug to 50 Amp RV/EV Outlet, Generator Plug to Household Outlets with breaker, Generator To Marine, Generator to RV, Generator to RV/Marine, Go RVing, Houehold RV Power, Household, Household Connector, Household Dryer, Household Extension Cord, Household Power, Marina, marina power, Marine, Marine Dock plug to RV/Range/EV, Marine Power, Marine RV Food Truck, Marine Shore, Marine Shore Power, Marine Shore Power Solutions, NEMA 10-30 Extension Cord, NEMA 1030 Dryer Relocation, NEMA 14-30 Extension Cord, NEMA L14-30 Extension Cord, PDU, Power Strip, Prosser RV, Prossers RV, PSROT, Residential, Residential Power, Residential Use, Rotating Power Strip, RV, RV 50 Amp plug to RV 30 Amp plug, RV Adapter, RV Adapters, RV Detachable Cord, RV detachable power supply cord, Standard Household Power, Transfer Switch Inlet, V Duo, V DUO Adapter, Vduo
Posted by Stephanie Junek on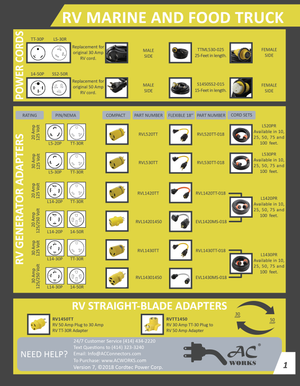 AC WORKS® RV, Marine Shore, and Food Truck Product Sell Sheet contain compact adapters, flexible adapters, and cord sets to get you power.  You can get power by using many different outlets including regular household outlets, Generator, RV Power, Dock Power and more.
Tags:

2017, 2018, 2019, 30 Amp, 30 amp plug to 50 amp RV, 30 Amp RV, 30 Amp RV Cord, 30 amp rv cord replacement, 50 am rv cord replacement, 50 Amp, 50 amp plug to 30 amp RV, 50 Amp RV, 50 Amp RV Cord, AC Works, AC Works brand, Boat Dock Safety, Camper, Camper Adapter, Camper Power, Common Shore Dock Power, Compact Adapter, Cord Sets, Customer Service, Extension Cord Power Solutions, Extension Cords, Fall RV Destinations, Fifth Wheel, Flexible Adapter, Food Truck, Food Truck Adapter, Food Truck Generator, Food Truck Generator Connections, Food truck power, Food Truck Power Solutions, food truck power supply, Food Truck Product Sheet, Generator, Generator Power, Generator RV, Go RVing, How to Power Food Truck, Marina, marina power, Marine, Marine RV Food Truck, Marine Shore, Marine Shore Power, Marine Shore Power Solutions, Marine Shore Product Sheet, Plug, Power, Power Solutions, Powering Food Truck With Generator, product sell sheet, Product Sheet, Product Sheet Download, Products, Prosser RV, Prossers RV, Receptacle, RV, RV 50 Amp plug to RV 30 Amp plug, RV Adapter, RV Adapters, RV Cord Replacement, RV Detachable Cord, RV detachable power supply cord, RV Electricity, RV Extenstion Cord, RV Generator, RV Generator Adapter, RV Generator Power, RV Generator Products, RV Park, RV Park Power Source, RV Power, RV Power Adapter, RV Power Connections, RV Power Cord, RV product Sheet, Technical, Trailer Adapter, Trailer Power