Posted by Stephanie Junek on
Tags:

10-50 extension, 10-50 extension cord, 10-50 plug, 10-50P, 10-50pr, 10-50r, 2017, 2018, 2019, 30 Amp Welder, 50 Amp Welder, 6-50 Cord, 6-50 Extension Cord, 6-50P, 6-50PR, 6-50R, AC Works, AC Works brand, avoid tripping breaker when charging ev, Charge Welder with Dryer Outlet, Common Shore Dock Power, Customer Service, Different Welder Power Connections, Dock Power, Dock Powerr, Dryer Outlet, Dryer Outlet Adapter, Dryer Outlet Adpater, dryer outlet solutions, Dryer Outlet to Welder, Dryer Outlet Uses, Dryer Outlets, EV, Extension Cord Power Solutions, Generator, Generator Adapter, Generator Power, Industrial, Industrial Locking Plug, Industrial Power, industrial welding power, Marina Dock Power, mig welding, New Dryer to Welder, Old Dryer outlet to welder, Plug, Power, Power Solutions, Products, Range, residential welding power, RV, RV Park Pedastal, RV Park Power, RV/EV, Safety, Shore Power, Technical, tig welding, weld, Welder, Welder Adapter, Welder Extension Cord, Welder Outlet, Welder Outlet to HVAC, Welder Plug, Welder Power Connections, Welding
Posted by Stephanie Junek on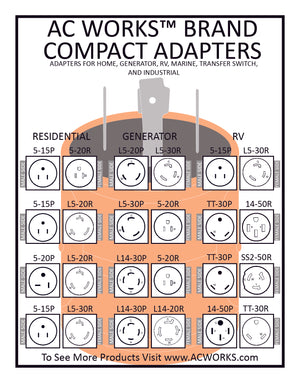 AC WORKS® Brand Compact Adapters The orange compact adapters come in a variety of powerful options.  We have Residential, Generator, RV, Marine, Transfer Switch and Industrial adapters to choose from. RESIDENTIAL  Male Side Female Side 5-15P 5-20R 5-15P L5-20R 5-20P L5-20R 5-15P L5-30R   GENERATOR Male Side Female Side L5-20P L5-30R L5-30P 5-20R L14-30P 5-20R L14-30P L14-20R   RV  Male Side Female Side  5-15P L5-30R TT-30P 14-50R TT-30P SS2-50R 14-50P TT-30R   MARINE Male Side Female Side 5-15P L5-30R L14-30P L5-30R L14-30P SS2-50R 14-50P SS2-50R   TRANSFER SWITCH Male Side Female Side 5-15P L14-20R TT-30P L14-30R L5-30P L14-30R   L14-20P...
Tags:

#askacworks, 2017, 2018, 2019, 5-15P, 5-20R, AC Works, AC Works brand, Customer Service, Emergency Power, Generator, Generator Adapters, Generator Power, Industrial, Industrial Power, L5-20P, L5-20R, L5-20R5-20R, L5-30R, L6-30R, Marine, Marine Shore Power, Marine Shore Power Solutions, Plug, Power, Power Solutions, Products, Residential, Residential Adapters, Residential Power, Residential Use, RV, RV Adapters, RV Power, RV Power Connections, Standard Household Voltage, Technical, Transfer Switch, Transfer Switch System
Posted by Stephanie Junek on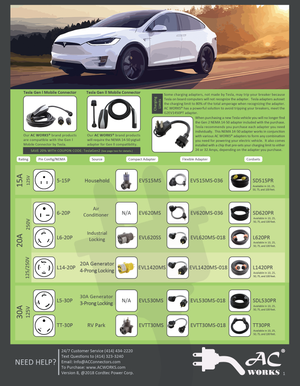 AC WORKS® Electric Vehicle Product Sell Sheet contains compact adapters of all types, flexible adapters, and cord sets to get power to and from just about any combination of items you would need to charge your electric vehicle.  You can charge your EV using many different outlets including regular household outlets, HVAC, Generator, Industrial, RV Power, Range, Dryer, Dock power and more.
Tags:

20 AMP, 2018, 30 Amp, 50 Amp, AC Works, AC Works brand, AC WORKS Product Sheet, Charge EV with Dryer Outlet, Compact Adapter, Cord Sets, Customer Service, Drive Electric, Dryer Outlet, Electric vehicle, Electric Vehicle Adapter, Electric Vehicle Adapters, Electric Vehicle Charging, EV, EV Adapter, EV Charging, EV Charging Adapter, EV charging adapter product information, EV charging solutions, EV Charging Tesla, EV Cord Sets, EV Electrical Vehicle, EV1030MS, EV1050MS, EV1430MS, EV515MS, EV615MS, EV620MS, EV630MS, EV650MS, EVL1420MS, EVL1430MS, EVL520MS, EVL530MS, EVL620MS, EVL630MS, EVTT30MS, Extension Cord Power Solutions, Flexible Adapter, Flexible Adapter Solutions, Generator, Generator Outlets, Household Outlet, HVAC Outlet, Industrial Outlet, Industrial Power, L1420PR, L1430PR, L520PR, L530PR, L620PR, L630PR, Plug, Power, Power Solutions, Product Sheet, Product Sheet Download, Products, Receptacle, Residential Power, Residential Use, RV Park Power Source, S1030PR, S1050PR, S1430PR, S515PR, S520PR, S615PR, S620PR, S630PR, S650PR, SS1PR, SS2PR, Technical, TT30PR