Posted by Christopher Hahn on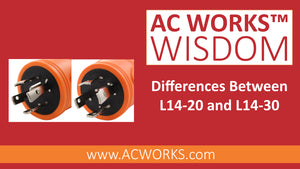 Often, generators will have a locking style 4-prong outlet. The two different types get confused quite often. These are NEMA L14-20 and NEMA L14-30. There are a few differences in both appearance and technical performance. In this video, we will cover it all!Please check out our website to read informative blogs about similar topics, and to see our various adapters and cords for your power solution needs. Check us out on Facebook, Pinterest, and Instagram. Give us a like and subscribe to our youtube channel to see more videos just like this one. Shoot us an email if there is...
Tags:

125/250, 125/250 volt, 125/250 volt receptacle, 125/250 Volts, 125/250V, 4-prong, AC Works, AC Works brand, AC WORKS video, AC WORKS Wisdom, AC WORKS Wisdom Series, adapter differences, Generator Adapters, L14-20, L14-20 20 Amp, L14-20 5000 Watts, L14-30, L14-30 30 Amp, L14-30 7500 Watts, L1420, L1430, Locking 14-20, Locking 14-30, Locking 4-prong outlet, locking adapter differences, Locking Adapters, Locking Generator Adapter, locking generator outlet, NEMA L14-20, NEMA L14-30, NEMA pin, NEMA pin configuration, Subscribe to YouTube, Video, Video Series, Wattage Capacity, Wattage Capacity Differences, YouTube, YouTube Channel, YouTube Video, YouTube Videos
Posted by Stephanie Junek on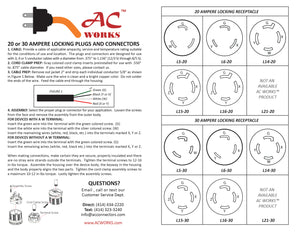 1. CABLE: Provide a cable of applicable ampacity, service and temperature rating suitable for the conditions of use and location. The plugs and connectors are designed for use with 3, 4 or 5 conductor cables with a diameter from .375'' to 1.56" (12/3 SJ through 8/5 S). 2. CORD CLAMP PREP: Gray colored cord clamp inserts preinstalled for use with .550" to .875" cable diameter. If you need other sizes, please contact us. 3. CABLE PREP: Remove out jacket 2" and strip each individual conductor 5/8" as shown in Figure 1 Below. Make sure the wire is clean and bright...
Tags:

10-50 plug, 20 AMP, 20 amp connector, 20 Amp locking plugs and connectors, 20 amps locking, 2018, 30 Amp, 30 amp connector, 30 amp locking, 30 amp locking plug and connector, AC Connectors, AC Works, AC Works brand, Assembly, connectors, Customer Service, Different Connectors, Easy Assembly, Emergency Power, Emergency Power System, L14-20, L14-30, L15-20, L15-30, L16-20, L16-30, L21-20, L21-30, L5-20, L5-30, L6-20, L6-30, NEMA, NEMA pin configuration, Plug, Power, Power Solutions, Receptacle, Residential Power, Residential Use, Safety, Safety Tips, Technical