Posted by Christopher Hahn on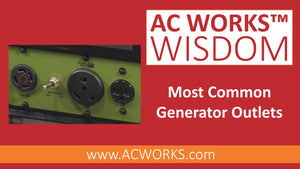 There are many different types of generators for many different purposes. The most common generator being used by our customers is a portable generator. Our customers use this type of generator for food trucks, RVs, and emergency power. After going out to local stores to see what is on the market, we discovered there are 4 most common outlets: A NEMA 5-15 or NEMA 5-20 for household plugs, a NEMA L5-30 for 30 Amp service at 120 Volts, and a NEMA L14-30 for 30 amp service at 120/240 Volts. Another outlet gaining popularity for campers is the NEMA TT-30. Watch...
Tags:

2018, 4 Common Outlets, 5-15, 5-15R, 5-20, 5-20R, 515, 520, AC Works, AC Works brand, AC WORKS video, AC WORKS Wisdom, AC WORKS Wisdom S, AC WORKS Wisdom Series, Emergency Power, Emergency Power Generator, Emergency Power System, Food Truck Generator, Generate Power, Generator, Generator Connections, Generator Connector, Generator Outlet Power, Generator Outlets, L14-30, L14-30R, L1430, L5-30, L5-30R, L530, Most Common Generator Outlets, NEMA 5-15, NEMA 5-20, NEMA L14-30, NEMA L5-30, NEMA TT-30, outlets, Portable Generator, RV Generator, Subscribe to YouTube, TT-30, TT-30R, TT30, Video, Video Series, YouTube, YouTube Channel, YouTube Video, YouTube Videos
Posted by Stephanie Junek on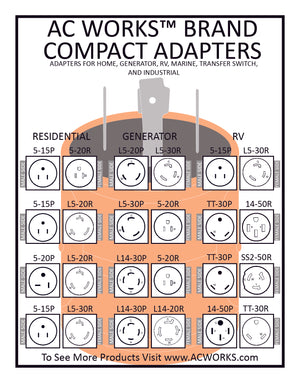 AC WORKS® Brand Compact Adapters The orange compact adapters come in a variety of powerful options.  We have Residential, Generator, RV, Marine, Transfer Switch and Industrial adapters to choose from. RESIDENTIAL  Male Side Female Side 5-15P 5-20R 5-15P L5-20R 5-20P L5-20R 5-15P L5-30R   GENERATOR Male Side Female Side L5-20P L5-30R L5-30P 5-20R L14-30P 5-20R L14-30P L14-20R   RV  Male Side Female Side  5-15P L5-30R TT-30P 14-50R TT-30P SS2-50R 14-50P TT-30R   MARINE Male Side Female Side 5-15P L5-30R L14-30P L5-30R L14-30P SS2-50R 14-50P SS2-50R   TRANSFER SWITCH Male Side Female Side 5-15P L14-20R TT-30P L14-30R L5-30P L14-30R   L14-20P...
Tags:

#askacworks, 2017, 2018, 2019, 5-15P, 5-20R, AC Works, AC Works brand, Customer Service, Emergency Power, Generator, Generator Adapters, Generator Power, Industrial, Industrial Power, L5-20P, L5-20R, L5-20R5-20R, L5-30R, L6-30R, Marine, Marine Shore Power, Marine Shore Power Solutions, Plug, Power, Power Solutions, Products, Residential, Residential Adapters, Residential Power, Residential Use, RV, RV Adapters, RV Power, RV Power Connections, Standard Household Voltage, Technical, Transfer Switch, Transfer Switch System