Posted by Christopher Hahn on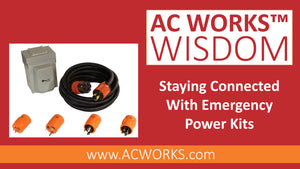 Having an emergency power system can be crucial to your home depending on where you live. After doing some research, you may find it hard to get all the necessary equipment you need in one place. Wouldn't it be helpful if there were a kit dedicated to emergency power systems?
Tags:

20 amp inlet box, 2019, 30 amp inlet box, AC Works brand, ac works brand kits, AC WORKS Brand Press Release, AC WORKS Kits, AC WORKS video, AC WORKS Wisdom, AC WORKS Wisdom Series, Backup Plan, Backup Power, Circuit Breaker, Customer Service, Emergency Backup Plan, Emergency Power, Emergency Power Generator, Emergency Power Inlet, Emergency Power Kit, Emergency Power Kits, Emergency Power Locking Kits, Emergency Power System, EPL, EPL Kits, EPL1420, EPL1430, Extension Cord, Extension Cord Power Solutions, Flood Outage, Generator, Generator Power, generator power solutions, Household Power, Hurricane Power Outage, Inlet, Inlet Box, instructional video, Locking Adapters, new products, Power, Power Inlets, Power Kits, Power Outage, Power Outages, Power Solutions, Product Release, Products, Residential, Residential Power, Residential Use, snow emergency, snow outage, stay connected with power kits, Subscribe to YouTube, Technical, tornado outage, Tornado Power Outage, Transfer Switch, Video, Video Series, Weather Outages, YouTube, YouTube Channel, YouTube Video, YouTube Videos
Posted by Christopher Hahn on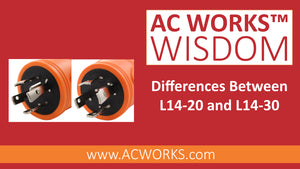 Often, generators will have a locking style 4-prong outlet. The two different types get confused quite often. These are NEMA L14-20 and NEMA L14-30. There are a few differences in both appearance and technical performance. In this video, we will cover it all!Please check out our website to read informative blogs about similar topics, and to see our various adapters and cords for your power solution needs. Check us out on Facebook, Pinterest, and Instagram. Give us a like and subscribe to our youtube channel to see more videos just like this one. Shoot us an email if there is...
Tags:

125/250, 125/250 volt, 125/250 volt receptacle, 125/250 Volts, 125/250V, 4-prong, AC Works, AC Works brand, AC WORKS video, AC WORKS Wisdom, AC WORKS Wisdom Series, adapter differences, Generator Adapters, L14-20, L14-20 20 Amp, L14-20 5000 Watts, L14-30, L14-30 30 Amp, L14-30 7500 Watts, L1420, L1430, Locking 14-20, Locking 14-30, Locking 4-prong outlet, locking adapter differences, Locking Adapters, Locking Generator Adapter, locking generator outlet, NEMA L14-20, NEMA L14-30, NEMA pin, NEMA pin configuration, Subscribe to YouTube, Video, Video Series, Wattage Capacity, Wattage Capacity Differences, YouTube, YouTube Channel, YouTube Video, YouTube Videos