Posted by Stephanie Junek on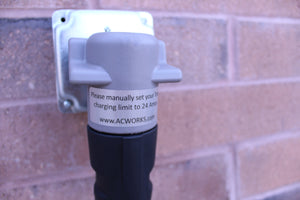 Level Two EV Charging is 240 Volt 15 Amps, 30 Amps, or 50 Amps. Level Two charging can be done with many different types of outlets in your home, warehouse, business, or other commercial building.  It is the mid-range of charging for electric vehicles.  The different outlets you may already have in your home for level two EV charging are your dryer outlet and your electric range outlet.  Level two charging can offer ranges of over 60 miles of per hour of charging, depending on variables.  Level two charging is also using household electricity but in higher doses.  You can...
Tags:

30 Amp Dryer Outlet, 4-prong dryer outlet, Charge EV with Dryer Outlet, Charge your EV while camping, Charge your EV with RV Park Power, charging your car while camping, Clothes Dryer Outlet, Drive Electric, Drive Electric Week, Dryer Outlet, Dryer Outlet Adapter, Dryer Outlet Adpater, dryer outlet solutions, Dryer Outlet Uses, Dryer Outlets, electric cars, electric dryer, electric dryer outlet, Electric Range, Electric Range Outlet, Electric vehicle, Electric Vehicle Adapter, Electric Vehicle Adapters, Electric Vehicle Benefits, Electric Vehicle Charging, Electrical, Electrical Adapter, Electrical Vehicle, EV, EV Adapter, EV Adapters, EV Charging, EV Charging Adapter, EV Charging Adapters, EV charging solutions, EV Charging Tesla, EV charging tips, EV Cord Sets, Home Tesla Charging, National Drive Electric Week, NDEW, RV Park Power, RV Park Power Source, Tesla, Tesla Charging
Posted by Stephanie Junek on

When you read level one charging you are essentially reading that you can charge your EV from your regular household outlet at a rate of about 4 miles of range per hour, depending on your vehicle.
Tags:

Charging Adapters, Compact EV Adapter, Drive Electric, Drive Electric Week, EV Adapter, EV Adapters, EV Charger, EV Charging, EV Charging Adapter, EV charging adapter product information, EV Charging Adapters, EV charging solutions, EV Charging Tesla, EV charging tips, EV Cord Sets, EV515620-012, EV515L620, EV515L630, EV515MS, EV515MS-036, Flexible EV adapter, Home EV Charging, Household Extension Cord, Level One, Level One Charger, Level One Charging, Level One EV, Level One EV Charging, National Drive Electric Week, National EV Week, S520PR, Tesla EV Charger