Posted by Stephanie Junek on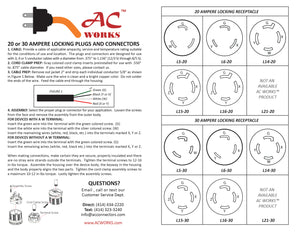 1. CABLE: Provide a cable of applicable ampacity, service and temperature rating suitable for the conditions of use and location. The plugs and connectors are designed for use with 3, 4 or 5 conductor cables with a diameter from .375'' to 1.56" (12/3 SJ through 8/5 S). 2. CORD CLAMP PREP: Gray colored cord clamp inserts preinstalled for use with .550" to .875" cable diameter. If you need other sizes, please contact us. 3. CABLE PREP: Remove out jacket 2" and strip each individual conductor 5/8" as shown in Figure 1 Below. Make sure the wire is clean and bright...
Tags:

10-50 plug, 20 AMP, 20 amp connector, 20 Amp locking plugs and connectors, 20 amps locking, 2018, 30 Amp, 30 amp connector, 30 amp locking, 30 amp locking plug and connector, AC Connectors, AC Works, AC Works brand, Assembly, connectors, Customer Service, Different Connectors, Easy Assembly, Emergency Power, Emergency Power System, L14-20, L14-30, L15-20, L15-30, L16-20, L16-30, L21-20, L21-30, L5-20, L5-30, L6-20, L6-30, NEMA, NEMA pin configuration, Plug, Power, Power Solutions, Receptacle, Residential Power, Residential Use, Safety, Safety Tips, Technical
Posted by Stephanie Junek on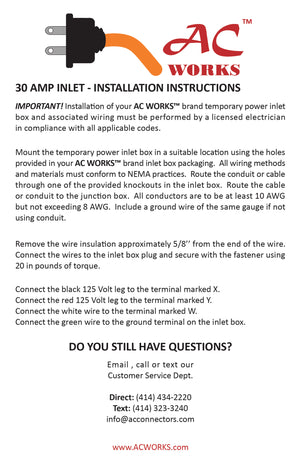 IMPORTANT! Installation of your AC WORKS® brand temporary power inlet box and associated wiring must be performed by a licensed electrician in compliance with all applicable codes. Mount the temporary power inlet box in a suitable location using the holes provided in your AC WORKS® brand inlet box packaging. All wiring methods and materials must conform to NEMA practices. Route the conduit or cable through one of the provided knockouts in the inlet box. Route the cable or conduit to the junction box. All conductors are to be at least 10 AWG but not exceeding 8 AWG.  Include a ground wire of the...
Tags:

2017, 2018, 2019, 30 Amp, 30 amp 125 volt, 30 Amp Box, 30 amp connector, 30 amp inlet box, AC Works, AC Works brand, Assembly, Customer Service, Easy Assembly, Electrical Safety, Emergency Power, Emergency Power Inlet, Emergency Power System, Extension Cord Power Solutions, Household Power, Inlet Box, Inlet Box for 30 Amp, Plug, Power, Power Solutions, Product Guide, Products, Residential Power, Residential Use, Safety, Safety Tips, Standard Household Voltage, Technical, Transfer Switch Inlet Box, user manual