Posted by Christopher Hahn on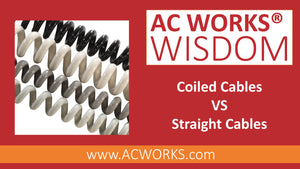 When shopping for power cords, you will most likely come across just plain old straight cables. While these are effective for nearly any situation, there's another alternative for your cable needs. What is it?
Tags:

2019, AC Works, AC Works brand, AC WORKS video, AC WORKS Wisdom, AC WORKS Wisdom Series, Coiled Cable, Coiled Cord, Coiled vs Straight Cable, Commercial Use, Customer Service, indoor/outdoor, Industrial Use, instructional video, Power, Power Solutions, Residential Use, Subscribe to YouTube, Technical, Video, Video Series, YouTube, YouTube Channel, YouTube Video, YouTube Videos
Posted by Christopher Hahn on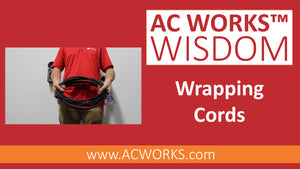 We're sure that your home or workplace has dozens, if not hundreds of electrical or data cables. Keeping them coiled up and organized not only looks nice, but it helps the overall longevity of the cable.
Tags:

2018, ac works brand, AC WORKS video, AC WORKS Wisdom, AC WORKS Wisdom S, AC WORKS Wisdom Series, cable safety, cables, coiled cord, cold weather extension cord, cord safety, electrical cable, electrical cord, Electrical Extension Cords, Extension Cord, Extension Cord Power Solutions, How To Video, indoor/outdoor cable, instructional video, organizing cords, power cable, power cord, Safety, Subscribe to YouTube, Video, Video Series, winter extension cord, wrapping cords, wrapping your power cord, YouTube, YouTube Channel, YouTube Video, YouTube Videos