Posted by Christopher Hahn on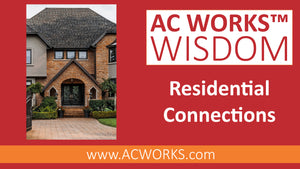 Whether you have been a homeowner for a long time or if you are a new homeowner, you might not have realized the different uses possible with the electrical outlets around your home. From a regular household outlet to the outlet you use for your clothes dryer or cooking range, there are many possibilities.
Tags:

110 volt, 120 Volt, 2018, 3-prong household outlets, AC Works, AC Works brand, AC WORKS video, AC WORKS Wisdom, AC WORKS Wisdom Series, air conditioner, Circuit Breaker, Customer Service, Dryer Outlet, dryer outlet solutions, Dryer Outlets, Electrical Outlets, high power outlets at home, home outlets, Household, Household Connector, Household Dryer Outlet, Household Electricity, Household Outlets, Household Power, household power outlet, instructional video, Jacuzzi, L5-15P, L5-20P, locking style plug, NEMA 10-30R, NEMA 14-30R, NEMA 14-50R, NEMA configurations, Power, power outlet in your home, Power Solutions, Residential, Residential Power, Residential Use, Space Heater, Standard Household Outlet, Standard Household Power, Standard Household Voltage, Subscribe to YouTube, Tanning Bed, Tesla Charger Plug Adapter, Video, Video Series, YouTube, YouTube Channel, YouTube Video, YouTube Videos
Posted by Christopher Hahn on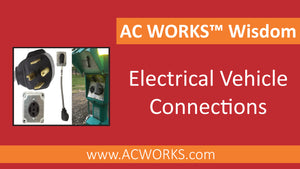 Electrical vehicles, such as Tesla, are becoming more and more popular. With more consumers going "green," more car manufacturers are developing electric vehicles. With electrical vehicles, there will always be a need to re-charge them. There are many AC WORKS® brand EV charging adapters for any situation you end up in. We have flexible adapters, compact adapters, and even extension cords for your Tesla charger.
Tags:

2018, 30 Amp Charging, 50 Amp Charging, 50 Amps electricity, AC Works, AC Works brand, AC WORKS video, AC WORKS Wisdom, AC WORKS Wisdom Series, Charge Tesla Anywhere, Charge Tesla at Home, Drive Electric, electric cars, Electric vehicle, Electric Vehicle Adapter, Electric Vehicle Adapters, Electric Vehicle Charging, EV Charging, EV Charging Adapter, EV charging solutions, EV Connection, EV Connections, EV650MS, Fast EV Charge, Household Electricity, Household Power, instructional video, NEMA 14-50P, NEMA 5-15R, NEMA 6-50R, Power, Power Solutions, Slow EV Charge, Subscribe to YouTube, Technical, Tesla, Tesla Charger Plug Adapter, Trickle Charge Tesla, Video, Video Series, Where to Charge Tesla, YouTube, YouTube Channel, YouTube Video, YouTube Videos
Posted by Stephanie Junek on
Tags:

1030 Dryer Adapter, 15 Amp, 15 to 20 amp, 15 to 20 amp adapter, 15/20, 15/20 Amp, 2017, 2018, 2019, 3 to 4 prong dryer adapter, 30 Amp, 30 Amp Dryer Outlet, 30 amp outlet at home, 4 to 3 prong dryer outlet, 4-prong dryer outlet, 4-prong range outlet, 50 Amp, 50 amp outlet at home, 50 Ampg Range Adapter, AC Works, AC Works brand, Anti-Cold Weather Extension Cord, Charge EV with Dryer Outlet, Charge Welder with Dryer Outlet, Circuit Breaker, Clothes Dryer Outlet, Customer Service, Dryer, Dryer Aapters, dryer adapter, Dryer Adapter Solutions, Dryer Adapter with Ground Pin, Dryer Adapter with Ground Wire, Dryer Adapters, Dryer Grounding, Dryer Grounding Adapter, Dryer Outlet, Dryer Outlet Adapter, dryer outlet solutions, Dryer Outlet Uses, Dryer Outlets, Dryer plug to household outlet, Dryer Relocation, Dryer Solutions, electric dryer, Electric Range Outlet, Electric vehicle, Electrical Extension Cords, Electrical Safety, EV Charging Tesla, Extension Cord, Extension Cord Power Solutions, Flexible Dryer Adapter, Garden Extension Cord, generator power solutions, Generator to Household Outlets, Ground Dryer, Grounding Your Dryer, hair dryer, high power outlets at home, high power plugs at home, Home, Home Appliances, Home Depot, Home Electric, Home Extension Cord, Home Office, Home Tesla Charging, Homeowner, Household, Household Connector, Household Dryer, Household Dryer Outlet, Household Electricity, Household Extension Cord, Household Outlet Creator, Household Outlets, Household Plug to T-blade, Household Power, Household T-blade, How to Ground Your Dryer, HVAC, HVAC Adapters, Locking 20 Amp, Locking 30 Amp, Mobile Home, NEMA 10-30R Dryer Adapter, NEMA 1030 Dryer Relocation, new dryer, New House Old Dryer, New to Old Dryer Outlet, old dryer, Old House New Dryer, Old to New Dryer Outlet, Plug, Power, power outlet in your home, Power Solutions, Products, Range, Range Dryer, Range Outlet, Range to Generator Adapter, Receptacle, Residential, Residential Power, Residential Use, residential welding power, Standard Household Outlet, Standard Household Power, Standard Household Voltage, T-blade, Tblade, Technical, Tesla, Tesla EV Charger, Transfer Switch, uses of 4-prong dryer outlet, uses of 4-prong range outlet, Welder, Welder Adapter, Welder Outlet to HVAC