Posted by Christopher Hahn on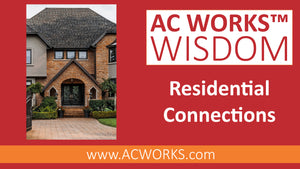 Whether you have been a homeowner for a long time or if you are a new homeowner, you might not have realized the different uses possible with the electrical outlets around your home. From a regular household outlet to the outlet you use for your clothes dryer or cooking range, there are many possibilities.
Tags:

110 volt, 120 Volt, 2018, 3-prong household outlets, AC Works, AC Works brand, AC WORKS video, AC WORKS Wisdom, AC WORKS Wisdom Series, air conditioner, Circuit Breaker, Customer Service, Dryer Outlet, dryer outlet solutions, Dryer Outlets, Electrical Outlets, high power outlets at home, home outlets, Household, Household Connector, Household Dryer Outlet, Household Electricity, Household Outlets, Household Power, household power outlet, instructional video, Jacuzzi, L5-15P, L5-20P, locking style plug, NEMA 10-30R, NEMA 14-30R, NEMA 14-50R, NEMA configurations, Power, power outlet in your home, Power Solutions, Residential, Residential Power, Residential Use, Space Heater, Standard Household Outlet, Standard Household Power, Standard Household Voltage, Subscribe to YouTube, Tanning Bed, Tesla Charger Plug Adapter, Video, Video Series, YouTube, YouTube Channel, YouTube Video, YouTube Videos
Posted by Stephanie Junek on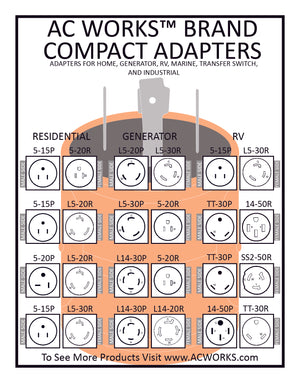 AC WORKS® Brand Compact Adapters The orange compact adapters come in a variety of powerful options.  We have Residential, Generator, RV, Marine, Transfer Switch and Industrial adapters to choose from. RESIDENTIAL  Male Side Female Side 5-15P 5-20R 5-15P L5-20R 5-20P L5-20R 5-15P L5-30R   GENERATOR Male Side Female Side L5-20P L5-30R L5-30P 5-20R L14-30P 5-20R L14-30P L14-20R   RV  Male Side Female Side  5-15P L5-30R TT-30P 14-50R TT-30P SS2-50R 14-50P TT-30R   MARINE Male Side Female Side 5-15P L5-30R L14-30P L5-30R L14-30P SS2-50R 14-50P SS2-50R   TRANSFER SWITCH Male Side Female Side 5-15P L14-20R TT-30P L14-30R L5-30P L14-30R   L14-20P...
Tags:

#askacworks, 2017, 2018, 2019, 5-15P, 5-20R, AC Works, AC Works brand, Customer Service, Emergency Power, Generator, Generator Adapters, Generator Power, Industrial, Industrial Power, L5-20P, L5-20R, L5-20R5-20R, L5-30R, L6-30R, Marine, Marine Shore Power, Marine Shore Power Solutions, Plug, Power, Power Solutions, Products, Residential, Residential Adapters, Residential Power, Residential Use, RV, RV Adapters, RV Power, RV Power Connections, Standard Household Voltage, Technical, Transfer Switch, Transfer Switch System