Posted by Stephanie Junek on
Tags:

#askacworks, AC Works brand, AC WORKS Brand Product Safety, ac works brand products, AC Works Connector, AC WORKS Extension Cords, ac works flexible adapter, ac works library, AC WORKS News, AC WORKS Newsletter, AC WORKS PDU, AC WORKS the WRAP UP, AC WORKS™, AC WORKS™ Adapters, AC WORKS™ products, acworks, By AC WORKS, Car Generator, Carbon Monoxide Safety, CarGenerator™, Choosing a generator, CO Poisoning, Download Newsletter, Emergency Power Generator, Extension Cord for Generator, Flexible Adapter for generator, Flexible Generator Adapter, Generator, Generator Adapter, Generator Adapters, Generator Adpater, generator capacity, Generator Safety, How to Choose A Generator, Industry News, Issue 24, january 2022 newsletter, Shock, Tips From Tony, Watts
Posted by Christopher Hahn on

Welcome back as we continue to dive into the world of the CarGenerator™ and AC WORKS®. Many people already own big heavy generators with an inlet box to match. Now seeing that the CarGenerator™ is easier to use, you might not use those generators anymore. Still, you want it to feed into the inlet box that you have conveniently installed outside of your home. Because the car generator has household connections, you will need to adapt to your inlet's configuration. This is possible with the help of AC WORKS® brand inlet box adapters. Inlet boxes for emergency power come in...
Tags:

2020, AC Works, AC Works brand, AC WORKS video, Car Generator, CarGenerator, Emergency Power, Emergency Power System, Extension Cord, Generator Power, generator power solutions, Household Power, instructional video, Power, Power Solutions, Products, Residential, Residential Power, Residential Use, Safety, Subscribe to YouTube, Technical, Video, Video Series, YouTube, YouTube Channel, YouTube Video, YouTube Videos
Posted by Christopher Hahn on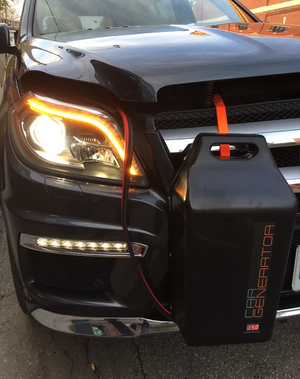 Late last year, an entrepreneur reached out to us because his customers were looking for one more step to bridge the gap between his invention and keeping the power on at home. His invention is CarGenerator™ and it functions exactly how it sounds. With a small backpack shaped case, you can power the necessities in your home using your car. The reviews say it's incredibly easy, reliable, environmentally friendly, and safe. We just had to give it a try for ourselves. Jonathan was kind enough to send us a CarGenerator™ to tinker with, and it is ingenious. With a full...