Posted by Stephanie Junek on
Tags:

#askacworks, 30 amp rv kit, 50 Amp RV, 50 amp rv kit, 50 Amp RV Power Kit, AC Works brand, AC WORKS brand kits, AC WORKS Brand Product Safety, ac works brand products, AC WORKS Extension Cords, ac works flexible adapter, AC WORKS in the future, AC WORKS Kits, AC WORKS Newsletter, AC WORKS the WRAP UP, AC WORKS™, AC WORKS™ Adapters, AC WORKS™ products, acworks, Burlington RV Superstore, By AC WORKS, Compact RV Adapter, Customer Service, DeHaan RV Center, Different RV Connections, Download Issue Nineteen, Download Newsletter, Fall RV Destinations, Food truck power, Food Truck Power Solutions, food truck power supply, Generator, Generator RV, Generator to 30 Amp RV, Generator to RV, generator to RV outlet, Generator to RV power, Generator to RV/Marine, Go RVing, July 2021, July 2021 Newsletter, Marine Power, Newsletter, RV, RV Power, RV/Generator, the wrap up
Posted by Christopher Hahn on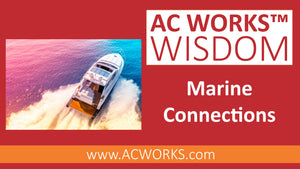 Shore power provides power to your vessel without the use of your engine. You can run essential vessel functions without using fuel. Many of the AC WORKS® RV adapters and power cords can be used for shore power as well. There are just a few things to keep in mind when selecting them. 
Tags:

10 gauge wire, 2018, AC Works, AC Works brand, AC WORKS video, AC WORKS Wisdom, AC WORKS Wisdom Series, Boat, Boat Dock Safety, Boat Power, Boat Power Solutions, cable safety, corrosion, Customer Service, instructional video, Locking Ring, Locking Ring Products, Marina, marina power, Marine Power, Marine RV Food Truck, Marine Shore, Marine Shore Power, Marine Shore Power Solutions, Nickel, nickel plated, nickel plating, nickel prongs, nickel-plated connector, nickel-plated pins, nickel-plated pins and terminals, nickel-plated plug, Oil Resistence, oxidization, Power, Power Pedastal, Power Solutions, prevent corrosion, Products, Safety, Shore Power Connections, Shore Power Outlets, SOOW, SOW, STOOW, STOW, Subscribe to YouTube, Technical, Vessel, Video, Video Series, weather resistant, Weather Resistence, Weather Tight, Weather Tight Shore Power, YouTube, YouTube Channel, YouTube Video, YouTube Videos
Posted by Stephanie Junek on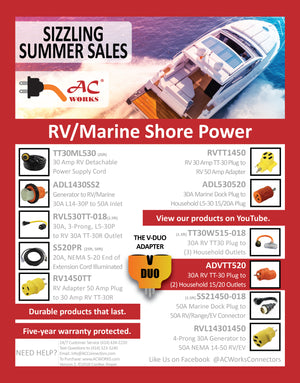 AC WORKS® brand products for the summer months.  These products will include things like Dryer Outlet adapters, Household Power Adapters, Emergency Power Extension Cords, RV power, Marine and Marine Dock Power, along with Home and Garden Extension Cords and Power Strips.  
Tags:

1030 Dryer Adapter, 15 to 20 amp, 15 to 20 amp adapter, 20 AMP, 20 Amp Extension Cord, 2018, 3 prong adapter to 4 prong, 3 prong to 4 prong, 3 to 4 prong, 3 to 4 prong dryer adapter, 3-4 prong, 3-prong, 30 Amp, 30 Amp Marine Dock Plug, 30 Amp RV, 50 amp, 50 Amp Marine Dock Plug, 50 Amp RV, 6 foot rotating power strip, AC Works, AC Works brand, AEX, Customer Service, Detachable, Detachable Style Power System, Dryer plug to household outlet, dryer plug to HVAC outlet, Dyer Relocation, Generator plug to 50 Amp RV/EV Outlet, Generator Plug to Household Outlets with breaker, Generator To Marine, Generator to RV, Generator to RV/Marine, Go RVing, Houehold RV Power, Household, Household Connector, Household Dryer, Household Extension Cord, Household Power, Marina, marina power, Marine, Marine Dock plug to RV/Range/EV, Marine Power, Marine RV Food Truck, Marine Shore, Marine Shore Power, Marine Shore Power Solutions, NEMA 10-30 Extension Cord, NEMA 1030 Dryer Relocation, NEMA 14-30 Extension Cord, NEMA L14-30 Extension Cord, PDU, Power Strip, Prosser RV, Prossers RV, PSROT, Residential, Residential Power, Residential Use, Rotating Power Strip, RV, RV 50 Amp plug to RV 30 Amp plug, RV Adapter, RV Adapters, RV Detachable Cord, RV detachable power supply cord, Standard Household Power, Transfer Switch Inlet, V Duo, V DUO Adapter, Vduo